Children struggling in reading tend to stay in the emergent phase longer. They need stacks of easy-to-read books for practice. There aren't many books in this category, and the cost adds up quickly. So help your child to make his own books. He'll be able to read them since the words came from within and he'll be proud of his own creations.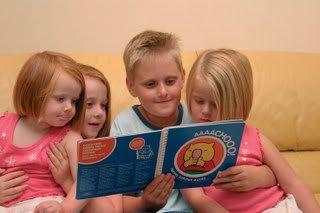 Put two pieces of paper together, fold in half and staple the folded edge.
Ask your child to think of a topic such as favorite animals, toys, vacation trips, birthday presents, friends or a movie.
If your child doesn't write well, he'll dictate the words while you write them down. If he has some writing skills, help him to spell the words.
Write the title on the front page and his name - Tigers by Jerome.
Write one short sentence per page.
Try to keep the words as close as possible to what he said. We want him to be able to match what he said to what it looks like in print.
Read the book to him running your finger under the words while reading. Then ask him to read the book to you several times. Let him draw pictures to complete his masterpiece.
Keep his books together in a basket or box. He will read them over and over to anyone who listens. These books will increase his sight word vocabulary and increase his interest in reading.