Although the life of a parent is often hectic, you should try to read with your child at least once a day at a regularly scheduled time. But don't be discouraged if you skip a day or don't always keep to your schedule. Just read to your child as often as you possibly can.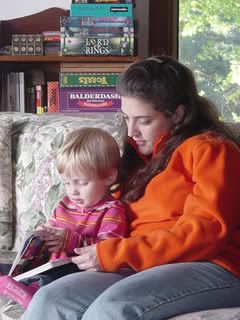 If you have more than one child, try to spend some time reading alone with each child, especially if they're more than 2 years apart. However, it's also fine to read to children at different stages and ages at the same time. Most children enjoy listening to many types of stories. When stories are complex, children can still get the idea and can be encouraged to ask questions. When stories are easy or familiar, youngsters enjoy these "old friends" and may even help in the reading.
Taking the time to read with your children on a regular basis sends an important message: Reading is worthwhile.