Many local libraries host summer programs that encourage and reward preschool and school-age children for summer reading. Encourage parents to see if their local library has a summer club or story hours. Recommend checking out the library calendar for special summer reading-related activities and events, such as arts and crafts, puppet shows, concerts, and magic shows.
Whether parents engage their children in organized library activities or simply let kids choose their own reading materials from the library, children will be inclined to keep reading and building important skills that could otherwise be lost during the summer months.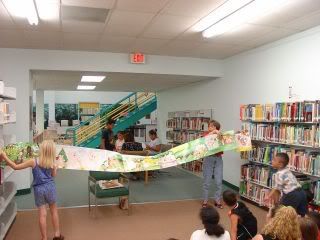 Summer library visits offer a wide range of benefits for the whole family. Here are just a few reasons (besides air-conditioning) why families should incorporate regular trips to the library into their summer plans.
Parental Perks
Going to the library takes the guesswork (and pressure) out of choosing books for kids. Librarians and other professionals and volunteers are available to assist parents and guide children in their reading selections.
Library visits give parents a chance to spend quality time with their kids.

Benefits for Kids
Participating in a summer reading program can be fun, rewarding, and challenging.
When children are given the opportunity to choose what they want to read, they're more likely to enjoy reading and make it a habit.
Library visits may give kids an opportunity to use computers, research on the internet, and socialize with peers.Something for Everyone: Teens, Too!
Some libraries have summer reading programs just for teens, with activities that appeal to their specific interests and educational needs. Some activities may include mystery nights, creative dramatics, poetry slams, arts and crafts, or talent shows.
Libraries often recruit teens to volunteer in their youth summer reading programs as storytellers, administrative assistants, or helpers for organized activities.

Bringing Families Together
The library is a place the whole family can visit together.
Parents and kids can check out books, or books-on-tape, to take on family vacations.
Older children may also want to read library books to younger siblings.