It will help, however, consider some things adult readers tend to take for granted. It's easier to be patient with children when we remember how much they don't know. Here are a few concepts we adults know so well that we forget sometimes we ever had to learn them.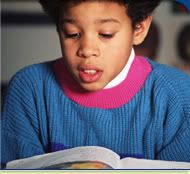 There's a difference between words and pictures. Point to the print as you read aloud.
Words on a page have meaning, and that is what we learn to read.
Words go across the page from left to right. Follow with your finger as you read.
Words on a page are made up of letters and are separated by a space.
Each letter has at least two forms: one for capital letters and and one for small letters.
Imagine how you would feel if you were trying to interpret a book full of such symbols. That's how young readers feel. But, a little patience (maybe by turning it into a puzzle you can solve together) is certain to build confidence.